TO CONTROL A MICROSCOPE TO AUTOMATICALLY SCAN SAMPLES
Virtual Image Capture (VIC) is a stand-alone application, available as an optional extension of the Aphelion™ Imaging Software Suite, to automatically control an optical or scanning electron microscope system. VIC provides a very intuitive user interface to scan slides and samples using a microscope1 equipped with an automatic stage. It gives the user a full control to the whole set of acquisition parameters.
A user can define:
Image location, name, size and format;
Magnification parameter;
Sample area to scan;
Overlapping area;
Motion direction; and
Stage position repeatability.
And the following additional settings for Scanning Electron Microscopes (SEM):
SEM parameters (e.g. working distance, detector channel, beam current, aperture, scan rate, brightness, contrast);
Set of parameters to be saved;
Set of parameters to be displayed in the user interface;
Set of parameters to control during acquisition; and
Value range of the parameters controlled during the acquisition.
All capture data, and the set of acquired images is saved as an Aphelion project called Virtual Aphelion Image. The Virtual Aphelion Image format is shared by VIC and Virtual Image Stitcher (VIS). VIS, another software product part of the Aphelion Imaging Software Suite is a very efficient software application to generate a virtual image from the set of sub-images captured by VIC.
VIC is based on a set of wizards to help the user defining all parameters to scan a sample. Following is the list of wizards available in VIC:
Camera alignment (Optical microscope only) – To move the stage along the camera reference frame
Sample alignment (SEM only) – To align the sample to the X stage motion based on a geometrical pattern
Beam alignment (SEM only) – To fine tune the alignment of the beam scanning along the X stage motion
Sample registration – To register a sample to be scanned with a Virtual Aphelion Image that has already been captured
Overlapping area definition
Capture polygon definition – To define the scanned area
Capture – To run and monitor the sample scan and the image capture
The Virtual Aphelion Image captured by VIC can be displayed at virtually any magnification within the user interface of VIC or VIS.
Users in the medical, metallurgy, and materials science fields can now utilize the processing power of Aphelion Dev, combined with Virtual Image Capture, to analyze large fields or complex microscopy data. For instance, low resolution pre-screens can be combined with higher resolution analysis on specific areas of a specimen that warrant more attention.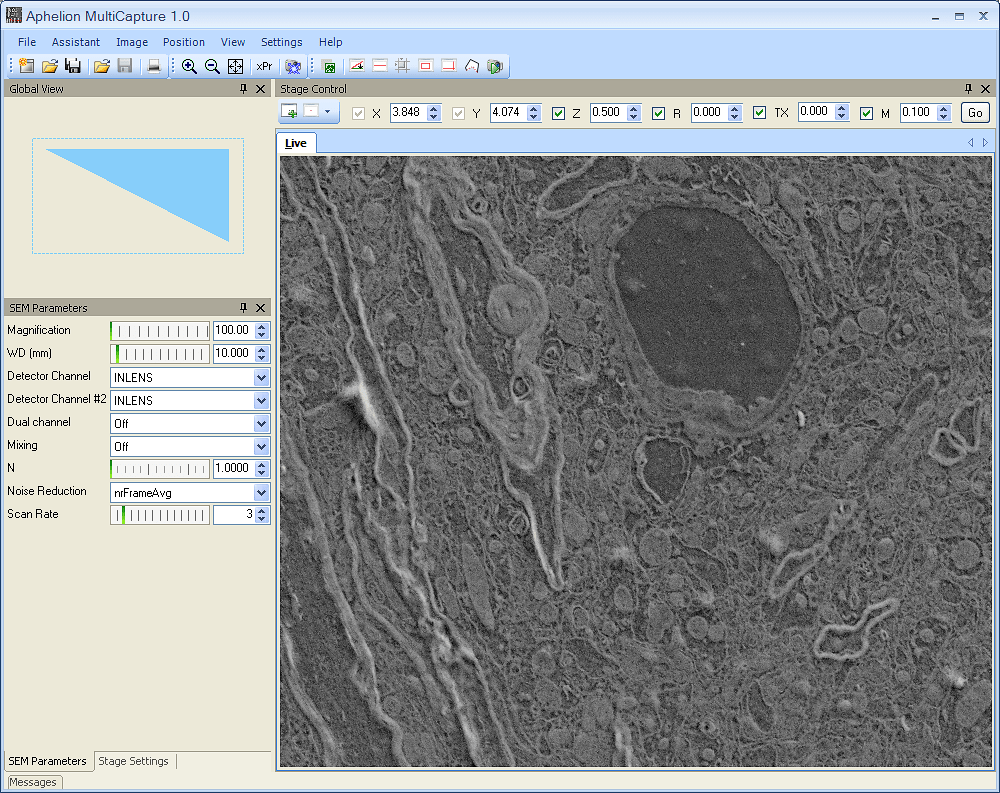 Main benefits of Virtual Image Capture
Automatic scanning to generate a virtual sample
Full control of the microscope parameters to optimize the scanning
Easy-to-use interface thanks a set of intuitive wizards
Process images and control the stage in the same environment
Can be embedded into a stand-alone application using the controls provided by the extension
1 Contact your local representative for the list of supported microscopes.