Image Processing of the Cornea Acquired by a Confocal Microscope
ARIES (AlConfocal Rapid Image Evaluation System) is a software product developed by ADCIS for Alcon Laboratories to automatically process images of the cornea acquired by a confocal microscope.
Confocal microscopy allows for high resolution, reliable, real time, imaging of the living corneal microstructure including normal corneal morphology, pathogen invasion, dystrophies and degenerations, post surgical management, dry eyes, drug toxicities, endothelial monitoring and contact lens related changes.
Two modes are available in the software: Automatic and Manual. In Manual mode, the user can interactively draw annotations in the image overlay to mark each cell and save those annotations on disk in a file at the Aphelion™ format (.aso). In automatic mode, the automatic segmentation of the nerve layer, the Wing Cell and the Immune Cell can be performed, measurements on the resulting objects can be computed, and histogram of one selected measurement can be displayed in the graphical user interface (GUI). In Post-Processing Editing Mode, the user can interactively annotate objects resulting from the automatic segmentation.
An article describing the application is published in the journal Cornea magazine.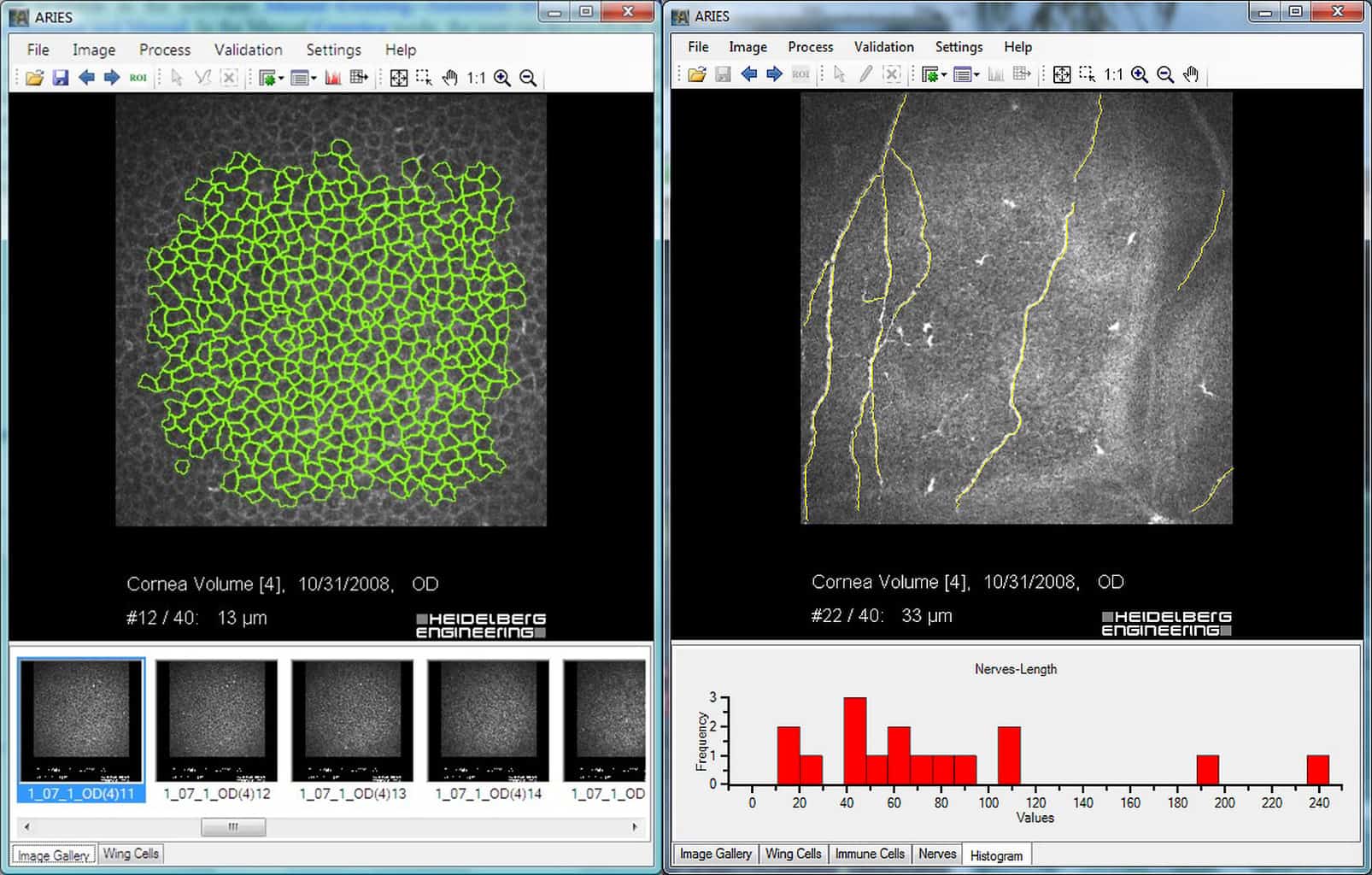 Examples of ARIES graphical user interfaces
Technical Specifications
ARIES is a stand-alone, software product that can be installed on any personal computer running Windows® 7 or higher. Images need to be accessible from a hard drive or from network storage, and organized in folders to be processed by the software, each folder containing a confocal image series. All ARIES measurements are calibrated and output in real-world units. The calibration value is manually entered in the ARIES Software as a single value.
The ARIES Software Product has the Following Capabilities
Automatic detection of Nerve, Immune Cell and Wing Cell
User modification of segmentation results
Manual Cells counting
Manual and Automatic counts comparison
Shape and statistical measurements
Display of the automatic segmentation result in a grid
Excel report generation grouping all the data relative to the processed image series