Software application for automatic characterization of inclusion population in the metallurgical industry
MeTiS SEM and MeTiS Optical were designed by Datamet and developed in collaboration with ADCIS to characterize inclusion population automatically from images from an optical microscope or a system consisting of a scanning electron microscope and EDS analyzer.
Version for Scanning Electron Microscope
Integrated SEM, image analysis (based on Aphelion™) and chemical analysis (EDS) to detect and analyze the inclusions in the best conditions. Metis is a complete software control of the microscope and image analysis including three separate modules:
Metis to measure the morphological parameters and chemical
meTis processing and formatting results
metiS for the simulation of measurement methods
Simple and user friendly interface assists MeTiS logical user sessions setting during measurement, methods of analysis and simulation, while allowing to obtain a large number of possibilities.
meTis and metiS are hardware-independent analysis (SEM and EDS). They can be used on items deported.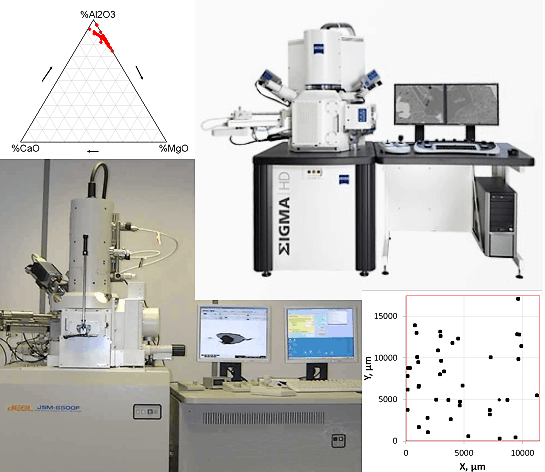 Metis (Measure)
A strong coupling between the SEM, the EDS analysis system and software image analysis (Aphelion) allows an optimal characterization of inclusions with diameters ranging from a few hundred nanometers to a few tens micrometers.
The main specificities of Metis Measure are:
Number of samples only limited by the size of the plate and the sample size
No limit on the number of measurement locations on each sample
Possible measures on samples rectangular or circular
possibility of linking characterizations with different measurement conditions
No limit on the duration of measurement
Choice of type and image acquisition conditions
Various methods for scanning the measurement zone
Magnification change possible during the measurement session
Autofocus each field
Distinction to three phases of the matrix by thresholding
Choice of chemical elements to analyze the different phases
Choice of analytical conditions (position of the chemical analysis, duration)
Backup images of inclusions or fields demand
Choice among different measurement options (image processing, filters, etc.)
Possibility of release in semi-automatic mode (manual focus and / or manual thresholding…)
Automatic backup results
Work session defined by the user credentials, test, sample, etc.

Object detection at low magnification, inclusion identification at higher magnification, and energy dispersive X-ray analysis.
Main benefits of Metis Measure
Automatic characterization of inclusions having a diameter greater than 500 nm
Characterization inclusions smaller in semi-automatic mode
Implementation quick and easy data
Complete parameterization methods to multiply
Observation and measurements at different magnifications (optimization of analysis time…)
Measurements of the parameters of chemical and morphological many inclusions (up to more than 100/hour)
Ability to analyze multiple samples with different measurement conditions
Optimizing the use of the microscope (24h/24 operation possible)
MeTis (Processing)
Processing software, dissociated measurement software allows multiple operations data measurement files, and return the results in Microsoft Excel.
The main specificities of Metis Treatment are:
Possibility of different treatments on each measurement file
Treatment of results files (merge, filtering, etc.)
Creation of tables of results
Creation of multiple graphs (mapping, histogram, etc.)
Automatic recognition of inclusion population
Processing database images inclusions
Constitution report results (specific methods or standards)
Functions "macros"
Main benefits of Metis Treatment
metiS (Simulation)
The simulation software provides access to statistical parameters of the various methods by measures calculated on virtual samples.
Main benefits of Metis Simulation
Uncertainty calculation for given measurement method
Comparison of different methods
Determination of optimal measurement conditions
Version for Optical Microscope
MeTiS version for optical microscopy offers the same features as the version for electron microscopy, with the exception of the following features:
Characterization inclusions smaller than 0.5 microns
Chemical analysis and processing of data from this analysis
Magnification change during a session