Ophthalmology application examples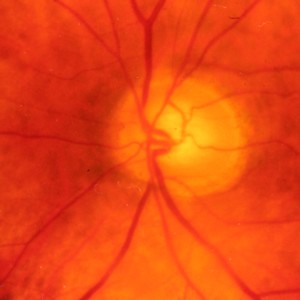 Download the flyer
Automated lesion detection in retinal images
Retinal Analysis Tool, an Aphelion™ stand-alone application, is an advanced and powerful tool for studying the fundus of the eye, using retinographic images. The Tool's processing of fundus images is fully automatic. Its underlying methodology was originally developed in partnership with two prestigious institutes: the Center for Mathematical Morphology at the School of Mines in Paris, and the Lariboisière Hospital in Paris, France1.
Current use of the Retinal Analysis Tool is for disease research only. However, this software is also available for integration into system applications for clinical uses, subject to approval by applicable regulatory agencies. Such applications could include diabetic retinopathy and age-related macular degeneration (ARMD).
The following tasks are performed on a color, angiographic image without human interaction:

Filtering to enhance the image
Locating the papilla (the optical nerve)
Analyzing the blood vessel network
Detecting the branching points
Detecting micro-aneurysms
Detecting exudates and hemorrhages
Locating the macula as the central dark area

Detection of retinal lesions
Graphical User Interface

In addition to its graphical user interface and image processing tools, a set of measurements is provided to quantify images:

Micro-aneurysm count
Number of vessel network branch points
Mean blood vessel diameter
Papilla size to evaluate glaucoma progression
Image and papilla densitometry data
Main benefits of the Retinal Analysis Tool:
Provides reproducible results
Same technique can be applied to retinal biometry applications
Easy-to-use application requiring no training or software expertise
Images and measurements are automatically saved to an internal database
Users can annotate images to manually mark lesions
1 The original development work was funded by the French Ministry of Research.
ISOS: Conjunctival Hyperemia Quantization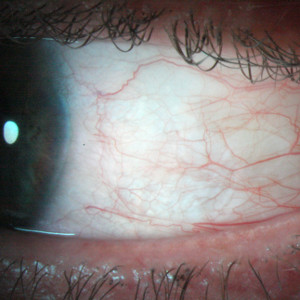 Related poster
Download the flyer [fr]
Related video tutorials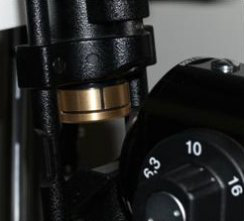 Purpose of the application
To describe a slit lamp-based imaging system and software that objectively and automatically quantifies conjunctival hyperemia. Conjunctival hyperemia is an important indicator of several ocular conditions including ocular surface inflammation, ocular irritation, and systemic disease. It is associated with increased blood volume in the anterior scleral, bulbar conjunctival and limbal vessels. Since conjunctival hyperemia is a consistent clinical sign of the ocular response to physiological and pathological stimuli, it has been considered an important endpoint in efficacy and safety trials for contact lenses, medications, as well as for evaluation of ocular toxicity of drugs, chemicals and pollutants. Thus, assessing the progression of conjunctival hyperemia is critically important for the treatment of patients with ocular disease.
Methods
The Imaging System for the Ocular Surface (ISOS) consisting of hardware and software components was developed to capture images and perform automated image analysis of conjunctival blood vessel morphology. It is a joint development between Novartis and ADCIS. A pilot study was conducted to obtain and analyze conjunctival images from patients with allergic conjunctivitis following allergen challenge. Manual image grading was performed on sets of images that were subsequently processed by image analysis. A statistical correlation of grading and image analysis results was performed, and a machine learning-based automatic hyperemia grading system was integrated in ISOS.
Results
Automatic image analysis using ISOS resulted in the ability to evaluate changes in a variety of morphological parameters of vessels that were not quantifiable to clinical observers (e.g. vessel dimensions such as diameter, total length, density), and correlate them with human grading. A machine learning-based system was developed in ISOS to mimic human grading and automatically quantify hyperemia from 35 morphological parameters. The automatic grading provided by ISOS was robust, highly correlated to manual image grading, and provided an objective hyperemia grade within a few seconds.

Manual grades between 0 (no redness and 4)
Conclusion
This pilot study demonstrated that the ISOS suite represents a valuable tool for objective assessment of conjunctival hyperemia. ISOS minimized grading variations across images and provided clinically meaningful measurement of conjunctival hyperemia and insights into the progression of ocular hyperemia. ISOS was fast, reliable, accurate, and most importantly, eliminated human bias in assessing conjunctival hyperemia.
ISOS Architecture
Three types of users can interact with ISOS: Graders, Viewers and Reviewers.
A Grader is an expert in a field relevant to the project images who annotates each image to identify and comment about the objects that are significant to the Viewers. Typically, there will be multiple graders annotating the same image set. To avoid bias, ISOS only allows a Grader to see her/his own annotations.
A Viewer is someone who has a need for the information contained in the Graders' annotations, but is not provided with any capability to change the Graders' results. Viewers include computer programmers developing algorithms to automatically detect the graded objects, statisticians analyzing the results to better understand the causes and progressions of disease, and those monitoring the grading process.
A reviewer is someone who can see all the information (Grader's annotations, automatic measurements), export grades and measurements, perform queries on the image database and register images.
ISOS Capabilities
The ISOS software product has the following capabilities:
Capture images of the ocular surface
Store images and associated patient data in a database
Manually annotate objects of interest captured in image form, and save those annotations in a database so they can be accessed by others
Perform automatic image processing and save measurements in a database
Review manual and automatic grades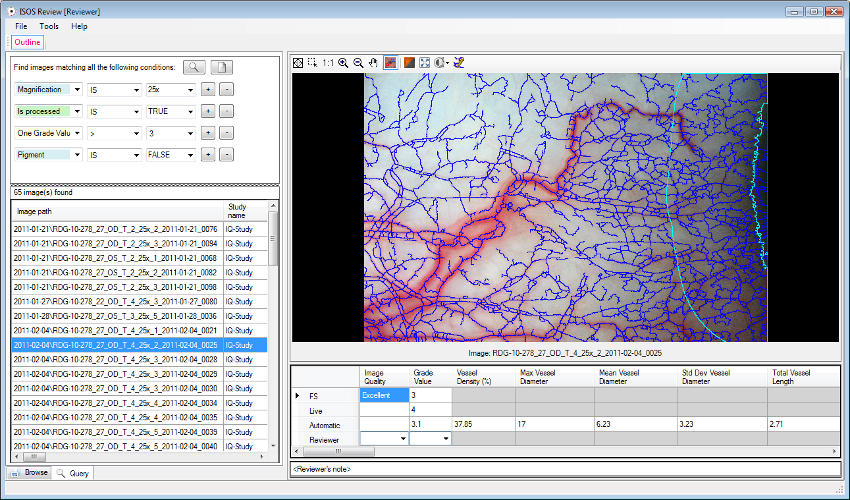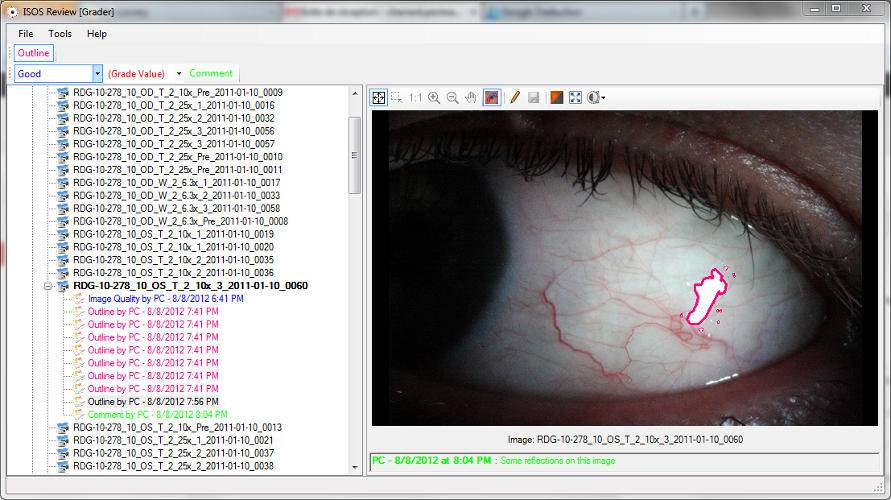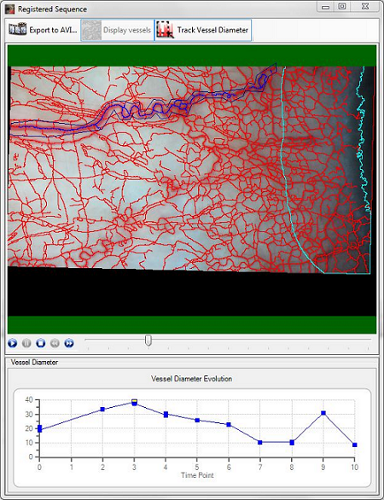 Technical Specifications
ISOS is a stand-alone, software product that can be installed on any personal computer running Windows® XP or higher.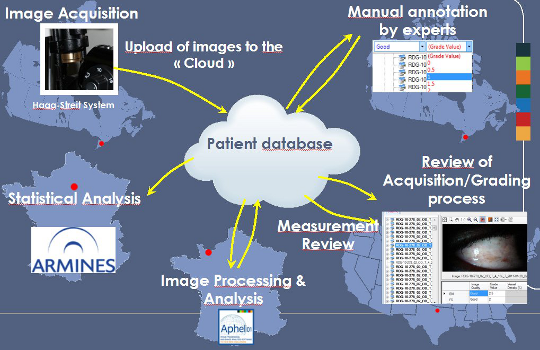 Video tutorials
ISOS Grader
ISOS Reviewer
ISOS Viewer
ARIES: Process images of the cornea acquired by a confocal microscope
Download article
Related video tutorial
Download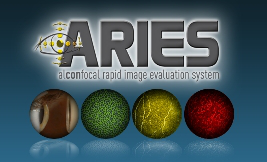 ARIES (AlConfocal Rapid Image Evaluation System) is a software product developed by ADCIS for Alcon Laboratories to automatically process images of the cornea acquired by a confocal microscope.
Confocal microscopy allows for high resolution, reliable, real time, imaging of the living corneal microstructure including normal corneal morphology, pathogen invasion, dystrophies and degenerations, post surgical management, dry eyes, drug toxicities, endothelial monitoring and contact lens related changes.
Two modes are available in the software: Automatic and Manual. In Manual mode, the user can interactively draw annotations in the image overlay to mark each cell and save those annotations on disk in a file at the Aphelion™ format (.aso). In automatic mode, the automatic segmentation of the nerve layer, the Wing Cell and the Immune Cell can be performed, measurements on the resulting objects can be computed, and histogram of one selected measurement can be displayed in the graphical user interface (GUI). In Post-Processing Editing Mode, the user can interactively annotate objects resulting from the automatic segmentation.
An article describing the application is published in the journal Cornea magazine.
ARIES Capabilities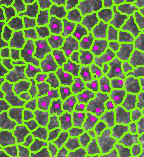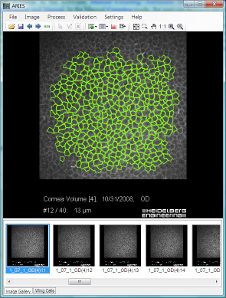 The ARIES software product has the following capabilities:
Automatic detection of Nerve, Immune Cell and Wing Cell
User modification of segmentation results
Manual Cells counting
Manual and Automatic counts comparison
Shape and statistical measurements
Display of the automatic segmentation result in a grid
Excel report generation grouping all the data relative to the processed image series
Technical Specifications
ARIES is a stand-alone, software product that can be installed on any personal computer running Windows® XP or higher. Images need to be accessible from a hard drive or from network storage, and organized in folders to be processed by the software, each folder containing a confocal image series. All ARIES measurements are calibrated and output in real-world units. The calibration value is manually entered in the ARIES Software as a single value.
Video tutorial
ReVAnalyzer: Software product to quantify the volume of Retinal Pigment Epithelium Detachment in macular area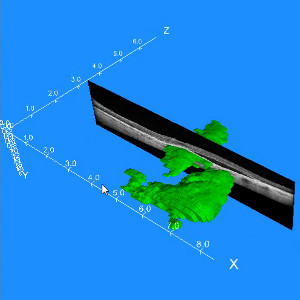 Download the flyer
Related poster
Related video tutorial
Download
ReV Analyzer (Retinal Volume Analyzer) is a software product that takes as input OCT images of a patient, detects and analyzes the retinal Pigment Epithelium Detachment (PED) in that series of images, generates a 3D volume in the 3D space, and provides information on the PED evolution over different visits. It also works on other retina-choroidal areas in a semi-automatic way.
ReVAnalyzer can be used for patients with vascularized PEDs in the scope of exudative Age Related Macula Degeneration, when the PED is visible in multi modal images. Typically, an ophthalmologic clinical examination is performed on a patient during multiple visits, and images of fluorescein and ICG angiography are captured, along with an SD OCT examination in Enhanced Depth Imaging (EDI) mode. ReVAnalyzer is fully compatible with the Spectralis HRA+OCT system manufactured by Heidelberg Engineering GmbH, Heidelberg, Germany.
A retinal volume of 61 lines, centered on the fovea is captured using the Spectralis system. The volume is then exported from the Heidelberg system, and automatically imported into the ReVAnalyzer software product.
Once the volume is opened in the software, the PED area is detected by the operator. Two detection modes are available:
A semi-automatic mode that lets the user outline the detachment in each section where it is visible, using a User Assisted tool that automatically fits to the boundary of the detachment.
An automatic mode is also available that detects the detachment in the central section, once the user has manually specified that section, and then propagates through all the sections where the detachment is present.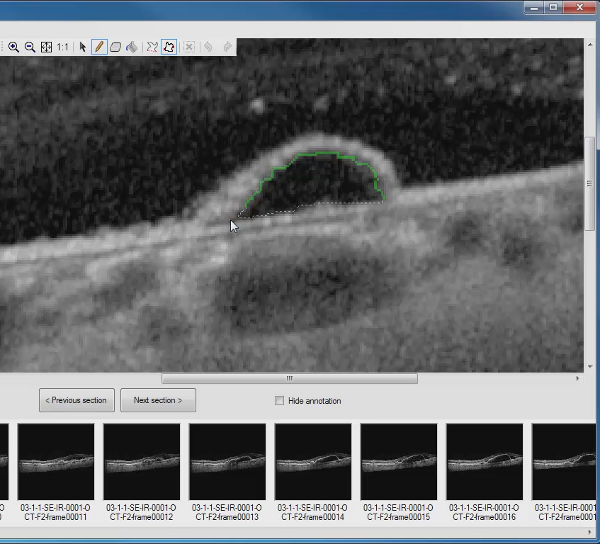 Outline detachment using the User Assisted tool that automatically fits to the boundary of the detachment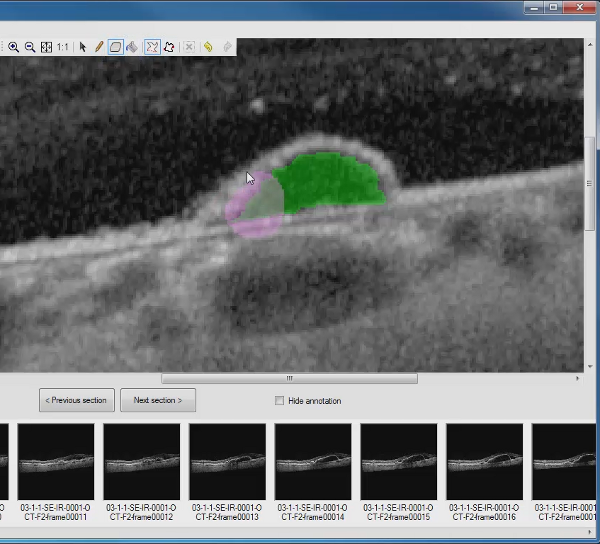 Eraser tool used to adjust the detection
In both modes, the user is capable of visually validating the detection in each section, and using a Pen/Eraser tool to adjust the detection.
Once the detection is completed, the software automatically reconstructs and displays the PED in 3D. A full set of display parameters is available to let the user adjust the display in terms of color and orientation, display a section along with the 3D volume, zoom in and out, and move the PED in all directions. The computed volume is provided in pixels and calibrated unit (cubic millimeter).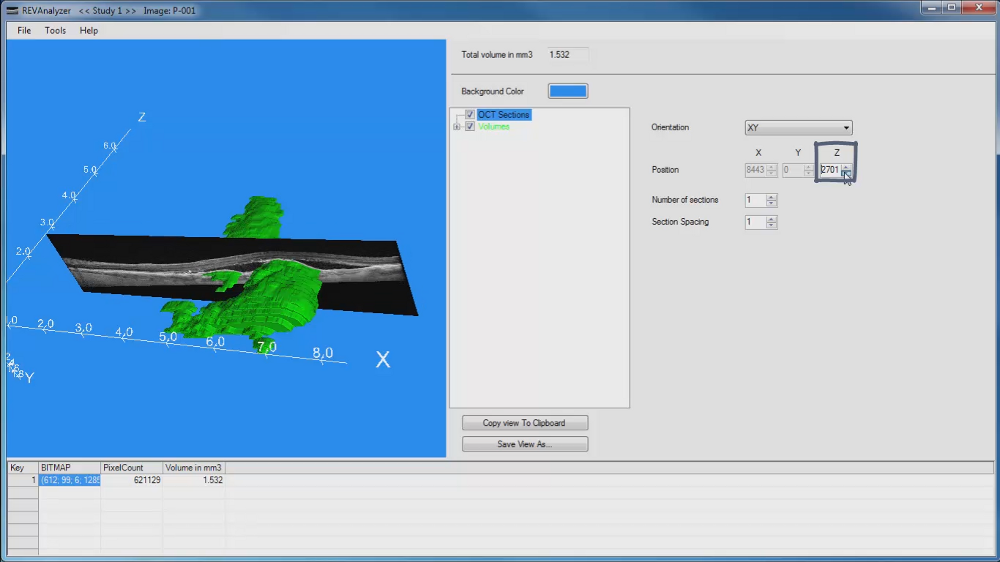 3D volume and section display
ReVAnalyzer can track the evolution of a detachment over multiple visits for a given patient, and provide a report that can be printed and saved.
ReVAnalyzer has been specified and fully validated by the team of Dr. Souied, Hôpital Intercommunal de Créteil, France. A semi-automated analysis has been performed by three independent readers, twice. Inter and intra reader coefficients were computed based on the Bland Altman statistical method. The analysis was performed on 20 eyes of 20 patients. The value of the coefficient was above 0.99, and the location and size of the PED did not have any impact on the results.
ReVAnalyzer is an excellent tool to accurately measure the PED volume, monitor its evolution over time, and evaluate its response to therapeutic treatments. It can be used by researchers in the field of ophthalmology, big pharmaceutical companies dealing with clinical studies, as well as private ophthalmologists performing patient monitoring through multiple visits.
Video tutorial