Microscope Interface application examples
MeTiS: Characterization of inclusion population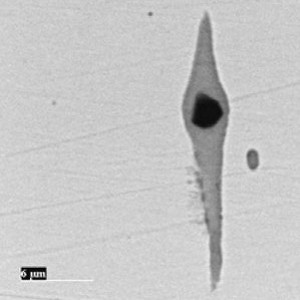 Contact Datamet for further information
MeTiS : software application for automatic characterization of inclusion population in the metallurgical industry
MeTiS was developed by Datamet to characterize inclusion population automatically from images from an optical microscope or a system consisting of a scanning electron microscope and EDS analyzer.
Version for electron microscopy

Integrated FEG-SEM JEOL, image analysis (based on Aphelion™) and chemical analysis (EDS PGT) to detect and analyze the inclusions in the best conditions. Metis is a complete software control of the microscope and image analysis including three separate modules:

Metis to measure the morphological parameters and chemical
meTis processing and formatting results
metiS for the simulation of measurement methods

Simple and user friendly interface assists MeTiS logical user sessions setting during measurement, methods of analysis and simulation, while allowing to obtain a large number of possibilities.

meTis and metiS are hardware-independent analysis (FEG-SEM and EDS). They can be used on items deported.
Metis (measure)

A strong coupling between the FEG-SEM (JEOL JSM-6500F), the EDS analysis system and software image analysis (Aphelion) allows an optimal characterization of inclusions with diameters ranging from a few hundred nanometers to a few tens micrometers.




The main specificities of Metis are:

number of samples only limited by the size of the plate and the sample size
no limit on the number of measurement locations on each sample
possible measures on samples rectangular or circular
possibility of linking characterizations with different measurement conditions
no limit on the duration of measurement
choice of type and image acquisition conditions
various methods for scanning the measurement zone
magnification change possible during the measurement session
autofocus each field
distinction to three phases of the matrix by thresholding
choice of chemical elements to analyze the different phases
choice of analytical conditions (position of the chemical analysis, duration)
backup images of inclusions or fields demand
choice among different measurement options (image processing, filters, etc.).
possibility of release in semi-automatic mode (manual focus and / or manual thresholding…)
automatic backup results
work session defined by the user credentials, test, sample, etc.



The benefits of Metis Measure are:
automatic characterization of inclusions having a diameter greater than 500 nm
characterization inclusions smaller in semi-automatic mode
implementation quick and easy data
complete parameterization methods to multiply
observation and measurements at different magnifications (optimization of analysis time…)
measurements of the parameters of chemical and morphological many inclusions (up to more than 100/hour)
ability to analyze multiple samples with different measurement conditions
optimizing the use of the microscope (24&nsbsp;H/24 operation possible)

Examples of inclusions detected
MeTis (Processing)
Processing software, dissociated measurement software allows multiple operations data measurement files, and return the results in Microsoft Excel.
The main specificities of MeTis are:
possibility of different treatments on each measurement file
treatment of results files (merge, filtering, etc.)
creation of tables of results
creation of multiple graphs (mapping, histogram, etc.)
automatic recognition of inclusion population
processing database images inclusions
constitution report results (specific methods or standards)
functions "macros"
The benefits of MeTis Treatment are :
treatment independent of the measurement
a multiprocessor database
expert system to identify inclusion population
automatic reports with ASTM E45 (2005), DIN 50602 (1985), ISO 4967 (1998), JIS G 0555 (2003) et EN 10247 (2007)
metiS (simulation)
The simulation software provides access to statistical parameters of the various methods by measures calculated on virtual samples.
The advantages of MetiS Simulation are :
uncertainty calculation for given measurement method
comparison of different methods
determination of optimal measurement conditions
Download article
An article describing the application is published in the journal JEOL News in July 2006.
Version for optical microscopy
MeTiS version for optical microscopy offers the same features as the version for electron microscopy, with the exception of the following features:
characterization inclusions smaller than 0.5 microns
chemical analysis and processing of data from this analysis
magnification change during a session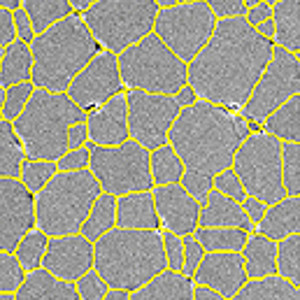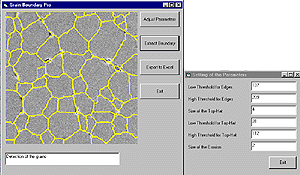 Grain boundary detection example
This software solves a common problem in materials science, namely the detection of grain boundaries. For example, ASTM standards refer to this detection.
The user interface appears as a combination of several windows with buttons calling some functions of image processing and mathematical morphology. The judicious combination of these features can automatically detect the grains and their boundaries in calling functions segmentation and analysis of size and shape. The user has very few parameters to be specified before the launch detection and the output image of the algorithm contains boundaries thinned and thick one pixel.
This software is absolutely expectations metallurgists who wish to automate the detection of grain material and quantify the number of phases and inclusions in steel. The software is based on a stand-alone program that takes an image in TIFF format as input and generates an image at the same output format. All measurements are exported to a file in Microsoft Excel format. The demo version is an executable Visual Basic.
The advantages of the detection software grain boundaries are:
Standalone software can be used from any Windows PC
Solves the problem non-trivial detection prior to any extent ASTM
No learning curve - Can be used by non expert technician in image processing
Automatic 99%. Very few parameters must be specified by the user
Fully compatible with all hardware supported by the acquisition of Aphelion™, as an optical microscope or digital microscope
Outputs a binary image and measures exported into a spreadsheet
Algorithm:
The algorithm includes edge detection, two types of transformations Top Hat Form to solve the problem of non-uniform illumination, an edge detection, filtering, operations erosion and dilation to clean contours, a line algorithm Watershed and skeleton by influence zone.