Automatic detection of wrinkles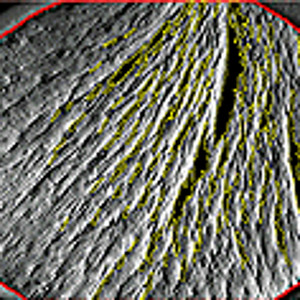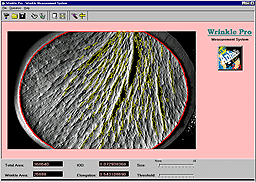 Wrinkle detection sample
Wrinkle detection was developed as a skin assessment tool for the skin care and dermatological manufacturers.
It provides push-button operations based on image understanding technology to provide users with numeric data for claims and efficacy evaluations. Using automated image analysis techniques, it measures digitized silicone skin replicas, which provide quantifiable information on skin texture.
The application is a valuable tool in providing quantitative statistical evidence to back product marketing claims. Through the use of digital image analysis, actual skin texture before and after product use, such as anti-aging cosmetics and cellulite reducing products, can be substantiated.
Time Saving Benefits:
Low investment
No learning curve - can be reliably used by untrained technicians.
Repeatable - Image Understanding techniques provide full automation free from operator error.
No dependency on outside laboratories - Take and measure data at your site.
Replica Sampling Technique
An adhesive molding template is attached to the skin and a silicon casting mixture is spread over this template. Once cured, the replica is lifted from the skin and mold, and is ready for analysis. Using controlled lighting and digital image acquisition, the replica is digitized and analyzed with image analysis algorithms. It provides consistent, totally automatic measurements of wrinkle count and elongation. Measurements can be constantly and reliably done at the client site by untrained technicians.