CLOVIS: An Intelligent Video Surveillance System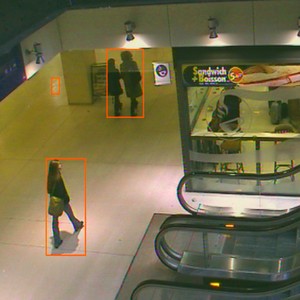 Learn more about the final demonstration
Development of high-level software tools for intelligent video surveillance
In October 2003, ADCIS was awarded Eureka funding from the European community to develop and market a complete software environment for video surveillance. For more information about the Eureka program, visit www.eurekanetwork.org/.
Most installed video surveillance systems have very limited capabilities, and no effective processing intelligence. Due to the current demand for increased security in industrialized countries, governments are now asking for new systems that perform advanced video surveillance tasks. These new systems must have enough intelligent processing to enable them to monitor public buildings and industrial sites without any human interaction. An intelligent video surveillance system must effectively handle changing scene conditions such as dynamic lighting conditions, camera motion, weather phenomenon, and other factors. Unfortunately, the deployment cost of quality video sensors and high performance computing that is required by these applications, and the complexity of the intelligent algorithms required by them severely limit widespread use of such systems.
The CLOVIS project team is comprised of prestigious laboratories and technology companies from Belgium and France. This team's goal is to construct a software development environment that will facilitate creation of today's high demand security applications. The CLOVIS software will provide high-level, generic tools that can be reused in any application requiring advanced video surveillance functions. Three of the tools provided will be counting people in a scene, tracking specific individuals as they move through a scene monitored by multiple cameras, and detecting the presence or absence of targeted events in a controlled area.
The software environment will include a library of high-level functions and an intuitive, graphical user interface to help and to guide a user through the development of an intelligent video surveillance application. A subset of the library will be available in an optimized version of smaller size. This library version can be embedded in both distributed and local networks of smart camera sensors with on-board computing. An important feature of this architecture will be the ability to limit data transfers between sensors to semantic data, rather than transferring complete frame arrays of pixel data. Consequently, the bandwidth required by these networked systems will be greatly reduced, resulting in substantial savings in infrastructure costs. Furthermore, the computing intelligence designed into the processing elements will dramatically reduce or even eliminate human intervention and manual monitoring.
At the end of the project, the completed CLOVIS system will be validated on two different applications that are representative of typical situations. The first application will involve the detection and the counting of persons entering and exiting a room. The second application will involve tracking one or more persons moving through a controlled environment that is monitored by a network of cameras. Deployed surveillance systems based on CLOVIS technology will typically be security applications for roadways (both highway and city traffic management), railways (both on trains and in stations), maritime traffic monitoring (e.g., ships entering and departing harbors), and public building surveillance (e.g., airports, museums, sports venues).
Partners in the Clovis Project: