ADCIS is working closely with EyePrint Prosthetics, Inc. to develop a whole software environment for designing and manufacturing rigid contact lenses. Thanks this partnership, two powerful software products were developed: EyePrintPro Designer and ScanFitPro. 
Desiging custom-made rigid contact lenses
The EyePrintPro software product helps to perform 3D modeling of a lens starting from an impression of the ocular surface, and the associated medical prescription. The impression is converted into a 3D point cloud file that is generated using a 3D scanner. Optical corrections such as spherical, torics, multifocal, prism, and HOA (Higher Order Aberrations) can be modified from the user interface. It generates scleral and corneal contact lenses based on a combination of two files for the front and back surface definitions, fully compatible with the most common lathes. All parameters associated with the lens profile can be manually edited by the user during the whole designing process.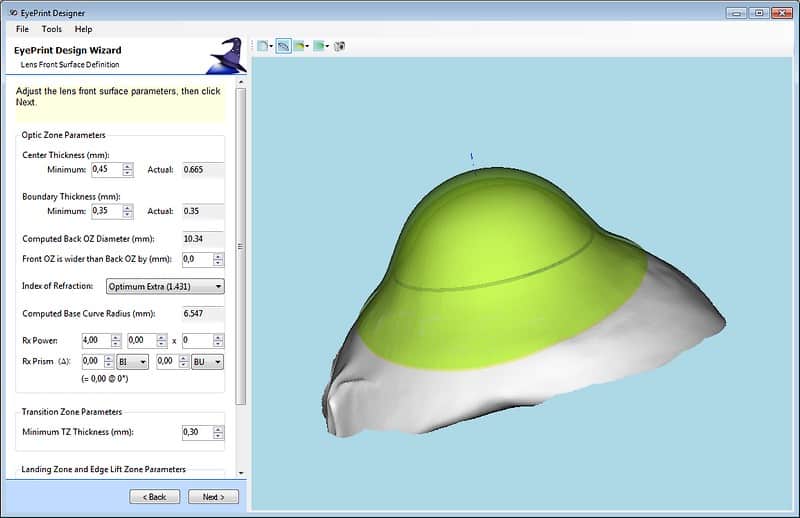 One of the windows of the EyePrintPro Software Product - Front Surface Definition
From the Ocular Surface…
The software imports a 3D model of the eye topography using:
A 3D scanner that scans the full mold, and generates a 26 mm point cloud
An Oculus Pentacam topograph
An Eaglet Eye Surface Profiler topograph that goes beyond 16 mm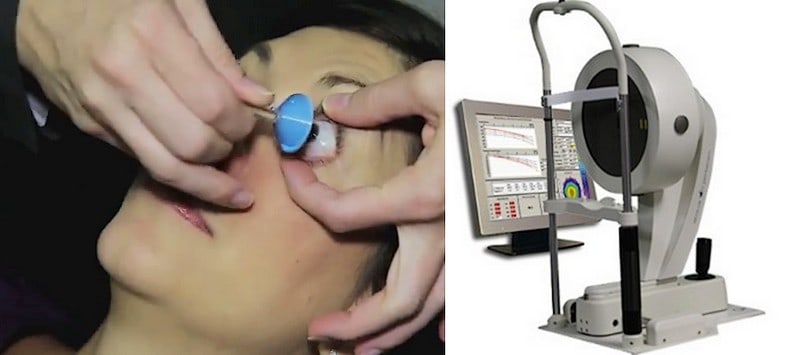 The eye surface is modeled either by taking a footprint of the eye (left image) or by using an eye surface scanner (right image)
… To custom-made rigid contact lenses
The two software products generate files that are fully compatible with the common lathes on the market:
DAC International Lathes
Sterling lathes
The designed lens includes the definition of both the front and the back surfaces.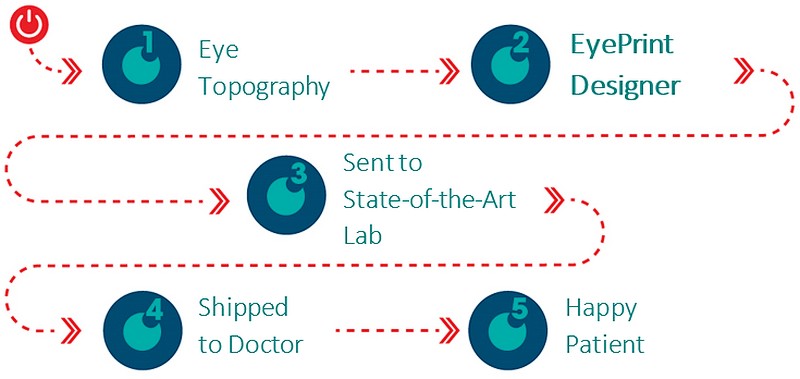 Steps of the custom-made lens production: from the impression of the ocular surface to the delivery to the patient
ADCIS expertise involved in this application domain
Import of 3D surfaces generated by different systems (3D scanner, Oculus Pentacam, Eaglet Eye Surface Profiler)
Lens design using optical formulae, and default optical parameters
3D image generation
Manual editing in the 3D image to define the limbus and bumps
Videos
The flowing video shows each step of the custom-made rigid lens design
The video below shows each step of the custom-made corneal lens definition process using the ScanFitPRO software product
All images and videos kindly provided by EyePrint Prosthetics, Inc.