Saint-Contest, France, October 27th, 2022
ADCIS is pleased to announce the release 4.6.0 of the Aphelion imaging software suite.
This version brings new features that meet the expectations of our end-users, value-added resellers, and OEMs.
Finding a solution to the camera shortage
Since more than a year, the postponement of deliveries of cameras to a uncertain date, caused by the component shortage, has delayed or blocked the progress of some projects.
Your projects have no longer to be held up by a supply problem, choose Aphelion 4.6.0 that offers a single interface for a wider range of camera brands.
Find out the list of compliant cameras here.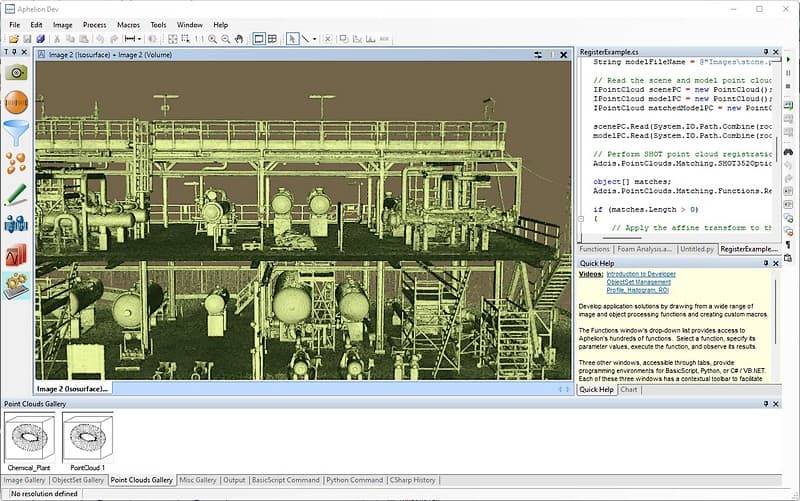 Handle 3D objects thanks to the Aphelion Point Cloud tools
One of our most popular extension, 3D imaging, benefits from a considerable improvement with the tools to handle the point clouds. Devices based on Lidar, ToF, or stereocameras, that generate point clouds, become more and more powerful and affordable, and are now used in many applications. The available functions include data conversion (point cloud, mesh, 3D bitmap), geometry, registration, crop, etc.
From prototyping to deploying imaging application without wasting time
Aphelion now offers a C# command recorder better suited to prototype vision applications and to convert them to .Net applications for reducing development time until deployment. In addition, many examples are provided to assist users develop their applications.
Powerful tools for generating detection/classification models
The Deep Learning method has shown that it is able to solve complex problems, among which the detection of "objects "and their classification from images captured under variable lighting conditions. This method requires a large set of annotated images to train the model then applies to detect and classify objects from images. This operation is time consuming. The Aphelion Annotate software product was designed to save time thanks to its highly customizable user interface. Moreover, it can perform pre-annotation by applying trained model, so users only have to validate or edit the annotations to generate the training database.
Once the model is generated, the user can integrate the object detection/classification in its vision application by adding a single Aphelion command.
Find out more information about the Deep Learning's Aphelion extensions here.
Expand your expertise to other domains with the Jpeg2000 reader
A new jpeg2000 reader has been added to the Aphelion imaging software suite. It opens j2k,jp2,j2c, and jpt formats, allowing users to work with state of the art histology, HD satellite images, etc.